First
Published
in
1999.
New edition
2004
SAMI EL HOSRI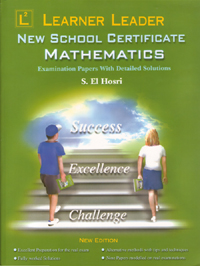 To Learn more about this book,
Click here
The new edition of our popular book New School Certificate Mathematics now includes nine papers, all with fully worked solutions.
The papers are modelled on the School Certificate test. Working through them will enrich their skills with new methods, strategies and techniques. These comprehensive and challenging papers are excellent preparation for the real examination.
Numerous teachers and students who have testified to the usefullness of the earlier edition will recognise that our high standards have been maintained and, where possible, enhanced...To see a sample of questions and worked solutions from the book, click here.
Retail Price: A$38.50
Special Price available for larger orders. Contact Us
9 820





Many teachers, and students have commented appreciatively on this book and have recommended it to others.
24 hours within Australia